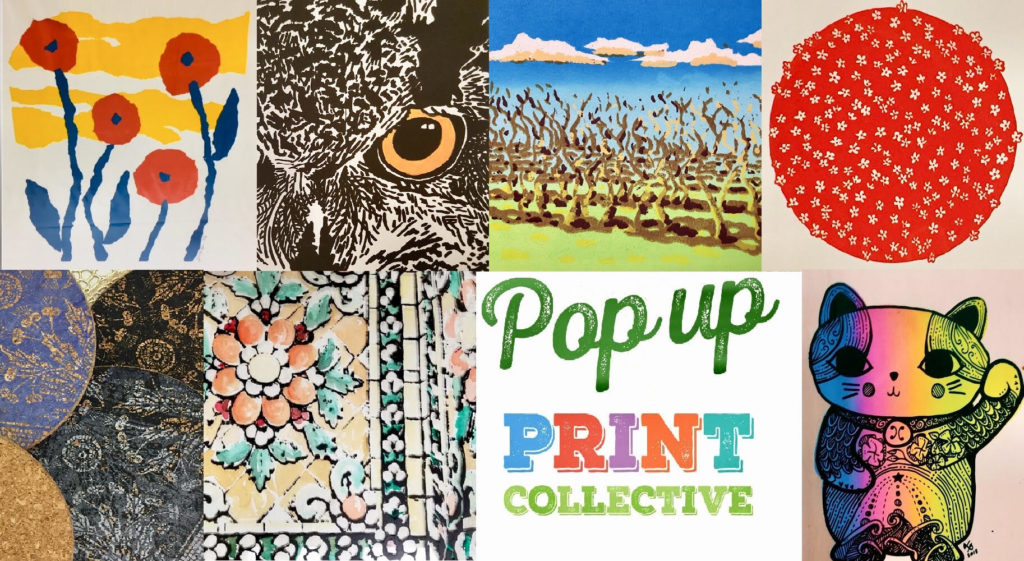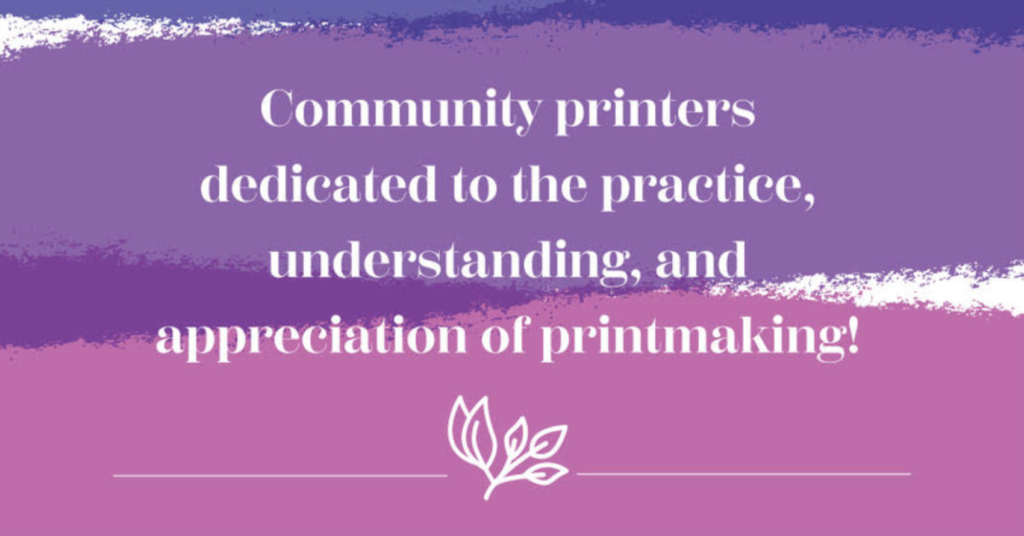 I initiated the Pop Up Print Collective in 2016 as a printmaking collaboration with local printmakers and students from my classes. The Pop Up Print Collective gets together once a year, inviting new members yearly and engaging in print and arts initiatives within our community.
In 2020 the Pop Up Collective participated in an Art Exchange during the COVI-19 pandemic. The Exchange began in March and was completed in August of 2020. The theme for the exchange was 'Every day in Isolation' and focused on the idea of exploring this topic in whatever way best suited the artist including using any medium available at home. As a result a collection of 169 works of art were created in a 6×6″ format in editions of 13 and sent out to the 13 artists who participated.
See the following works from this years 2020 Pop Up Print Collective Art Exchange.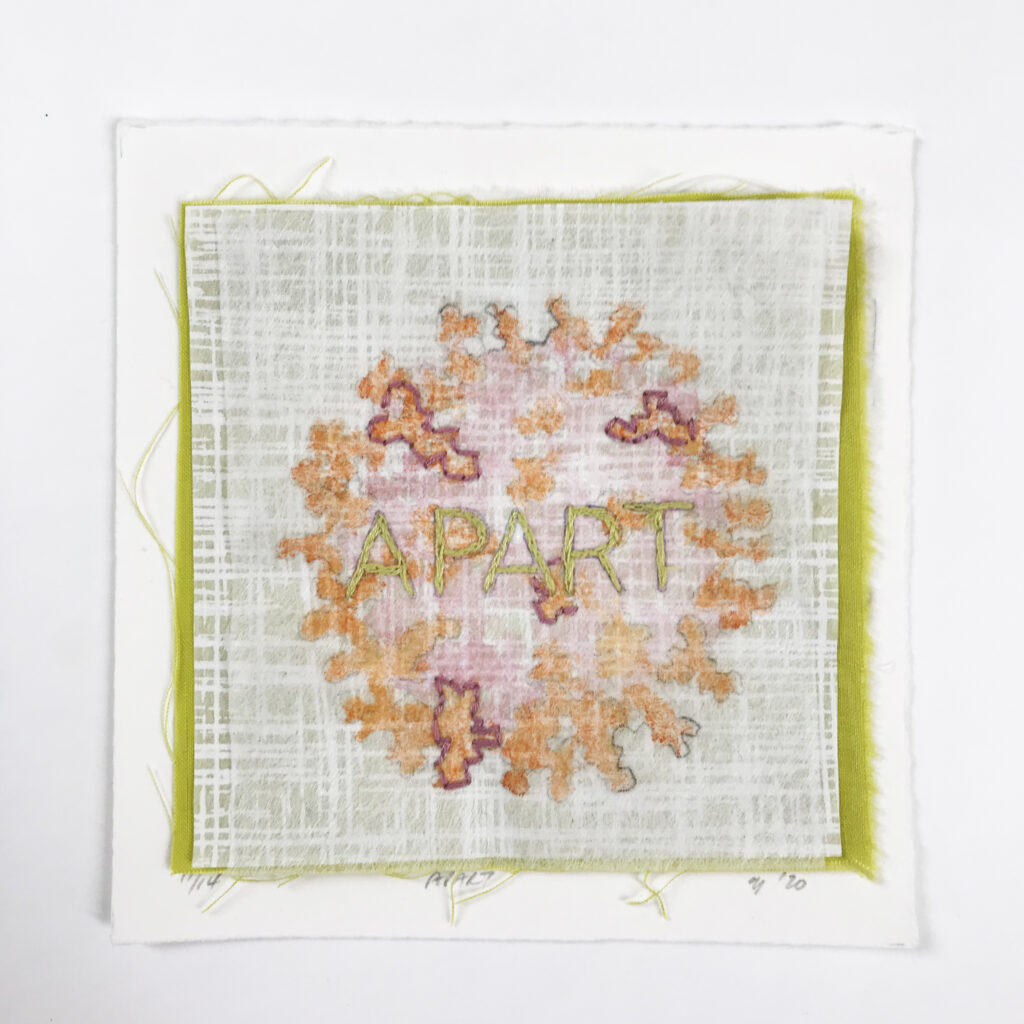 Cathy Yantis – 'Every Day in Isolation'
Alone I sit. The media streams consistently exposing the wrong doings of this time. We are apart, we are home, we are lonely. Life is on pause. An endless reel playing repeatedly. The reset button nowhere to be found – broken. I wait, quiet and still. With hope I adjust, I adapt and refrain from my usual. When will this pause end? How will be recover?  Instagram: @cathyyantsis        www.cathyyantsis.ca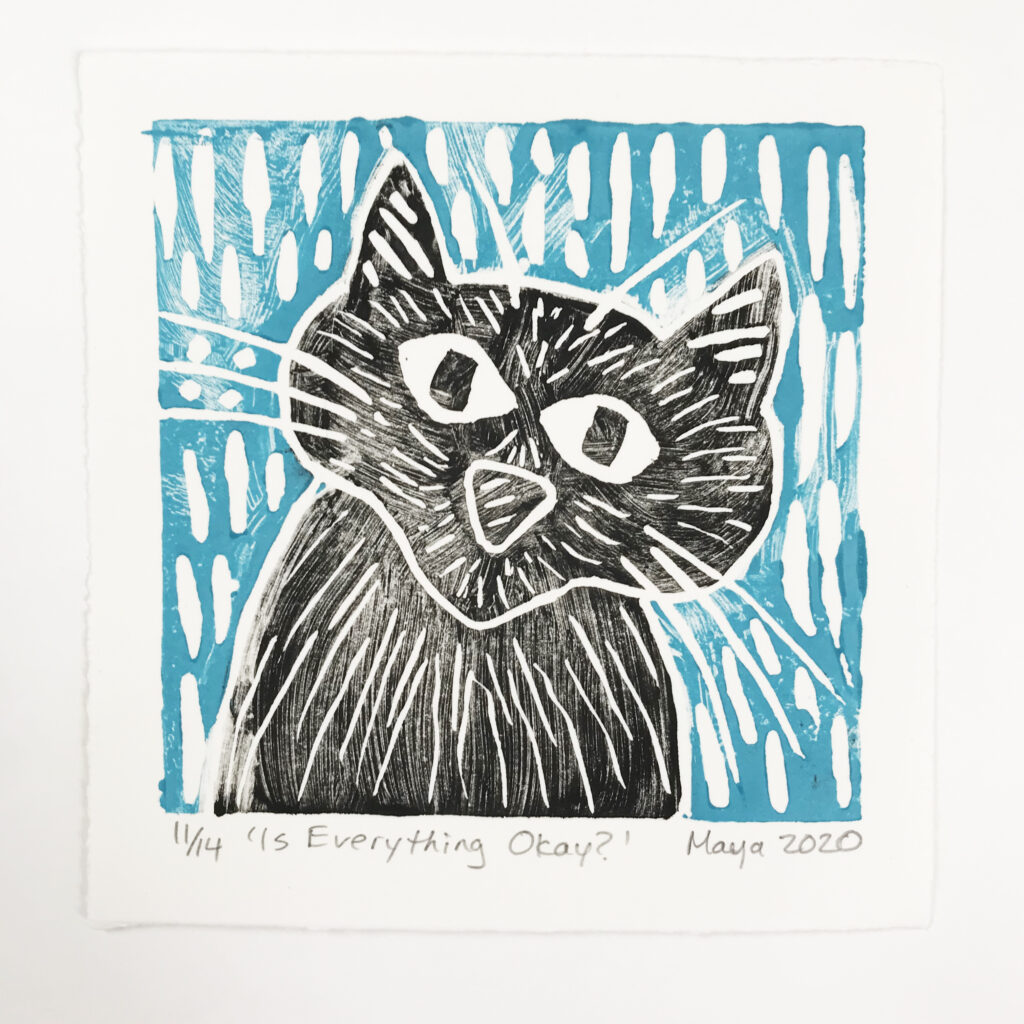 Maya Chakravarti – 'Is Everything Okay?'
The pandemic has increased my time at home like everyone else even though I have continued to go to work with reduced hours. It took a while to find a new routine and I have had more time to spend doing the things I normally neglect like gardening, binge watching and binge eating. My increased presence in the house has also through off my two feline companions. I think at first they thought it was great having me here to cuddle and provide snacks. At some point thought they started to wonder, I think, if everything was okay and could they have their chair back? The answer to the first questions varies from day to day but has settled into a general optimism as things get back to 'normal'. The answer to the second question is generally no but I have appeased them by becoming de facto cat furniture. My cat is, as usual, my muse as she asks 'Is Everything Okay?'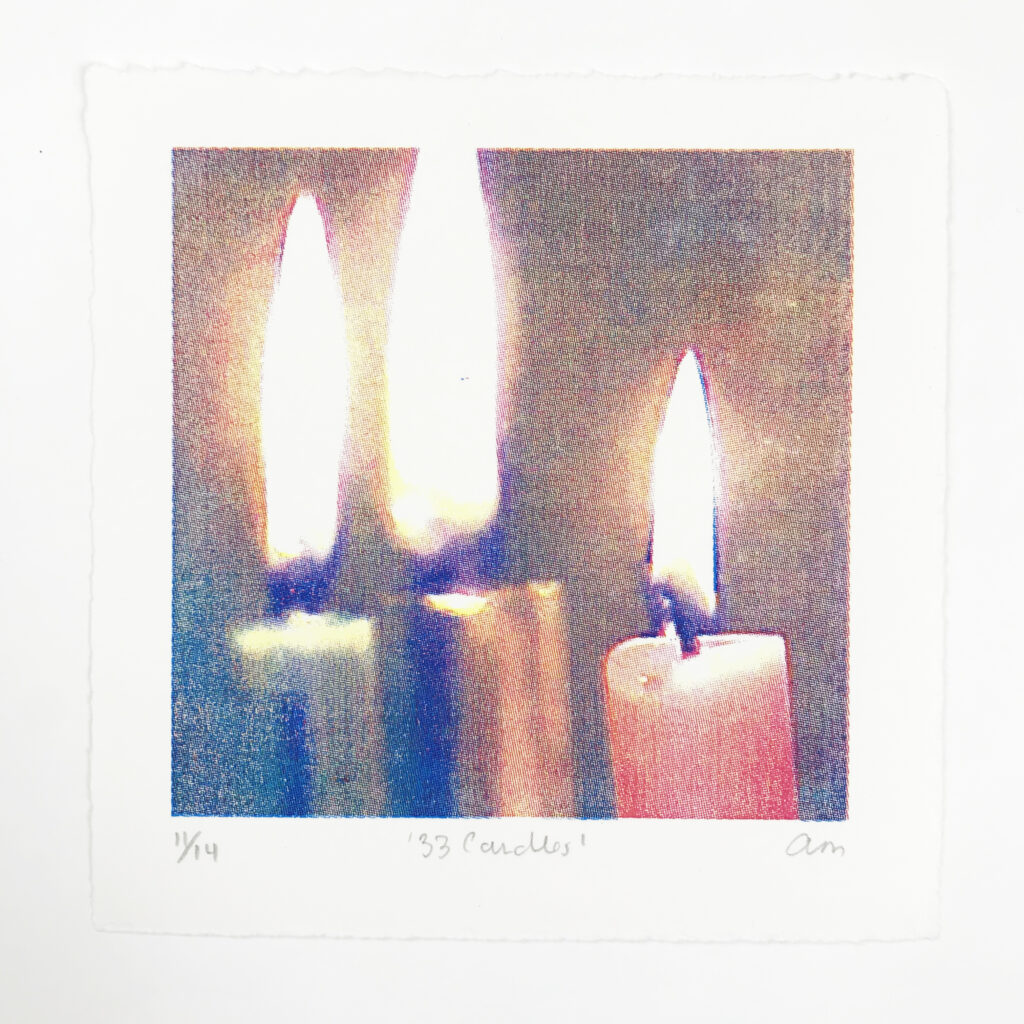 Amy McIntosh – '33 Candles'
This is a still from a High 8 video, a reflection of my 33rd birthday party one week before the Covid 19 lockdown started. With some great friends around me, I blew out my candles and thought about all of the wonderful changes that were coming my way. These changes are not the ones I had planned. Suddenly, everything was cancelled, we had to stay inside, and people were hoarding toilet paper. It felt like we were in the beginning of a sci-fi movie and a scary climax was coming. For me, this image is very auto-biographical. A reminder of my own time and patterns, and then this disruption to that time and how it will change the patterns. It's a memory of one more birthday, accomplishment, people, focus and a reverie of light. As I create this work, I am feeling creative and inspired. A candle is meant to symbolize light in the darkness of life and illumination, and I am starting to feel brighter.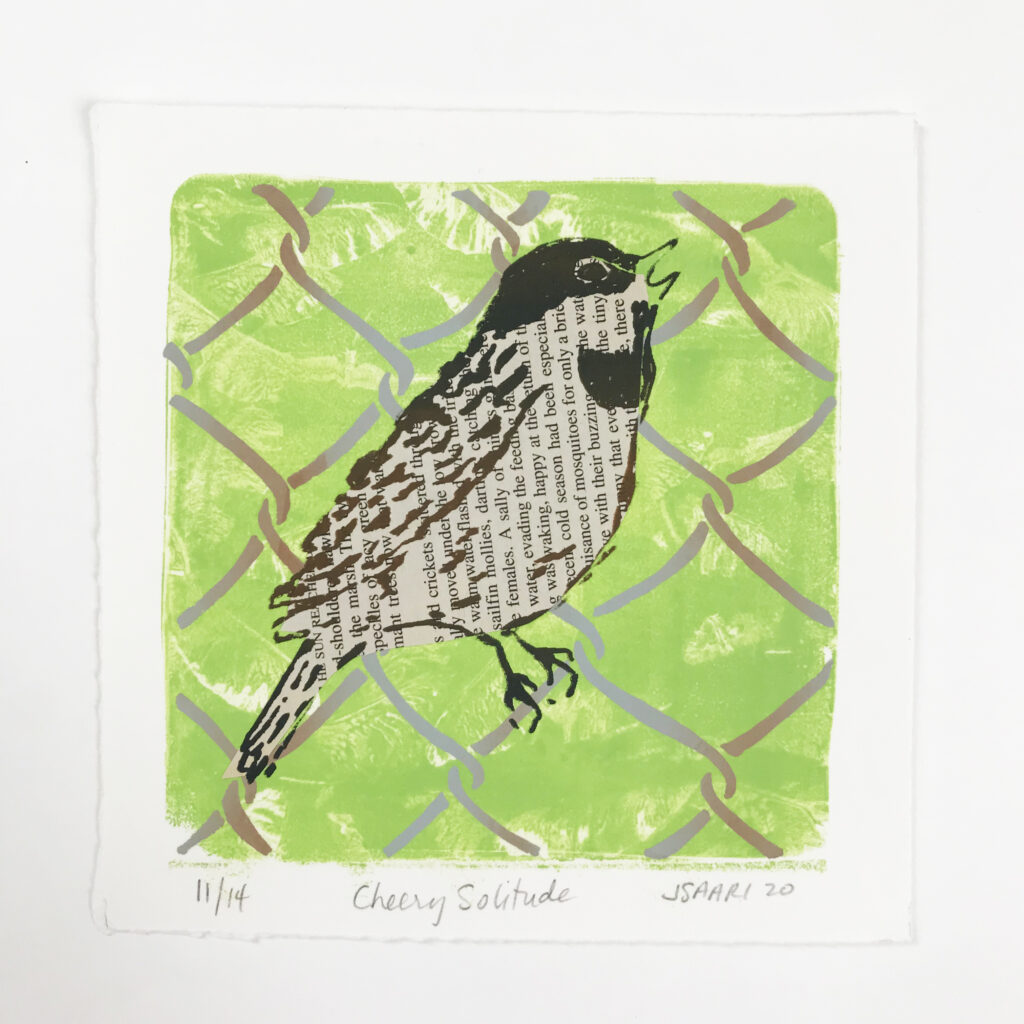 Jessica Saari – 'Cheery Solitude'
Secluded at home encouraged me to look at who and what lives in my neighbourhood and enjoy how time passes while the pandemic felt unending.     Instagram: @jess.s.98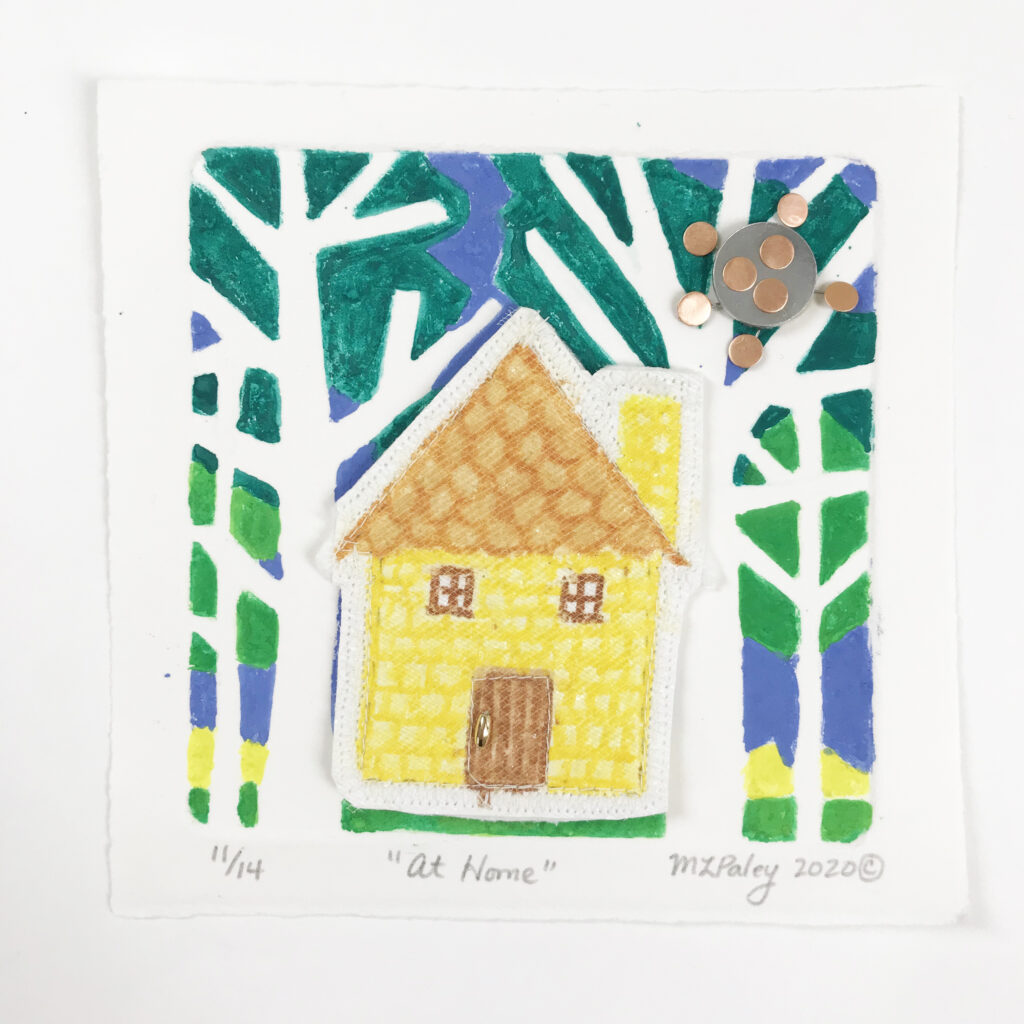 Marsha Paley – 'At Home'
A house among trees threatened by a now well-known invader. With its' childlike drawing of a house, this multi-media collage represents the safety of my childhood home by offering the comfort of a pillow or warm quilt during the COVID-19 pandemic. The house is drawn on construction paper which has been made into fabric and then layered like a quilt. The background print is of two of the mature trees surrounding the house whose greening leaves and birdlife brought us joy through the waning days of winter in March and the months of lockdown. The two smaller trees are for the four new native tree species and the mini-orchard of eight apple trees planted adjacent to and in the backyard this spring. These are all shown as ghost-like to represent the unknown future against a present sky, greenery and yellow flowers. At the same time, all is being threatened by the harsh metallic aluminum and copper virus. This artwork is special to me as the resist techniques are like the resistance measures we are employing to stave off the virus and is a showcase of the different arts and crafts undertaken during this time to support my positive mental health and well-being.
Multi-media: print- watercolour with painter's tape resist: house pillow/quilt – oil pastel (resist), acrylic paint, construction paper, iron-on adhesive, fusible interfacing, cotton batting, broadcloth, tulle and bead, Coronavirus – aluminum, copper, felt and glue.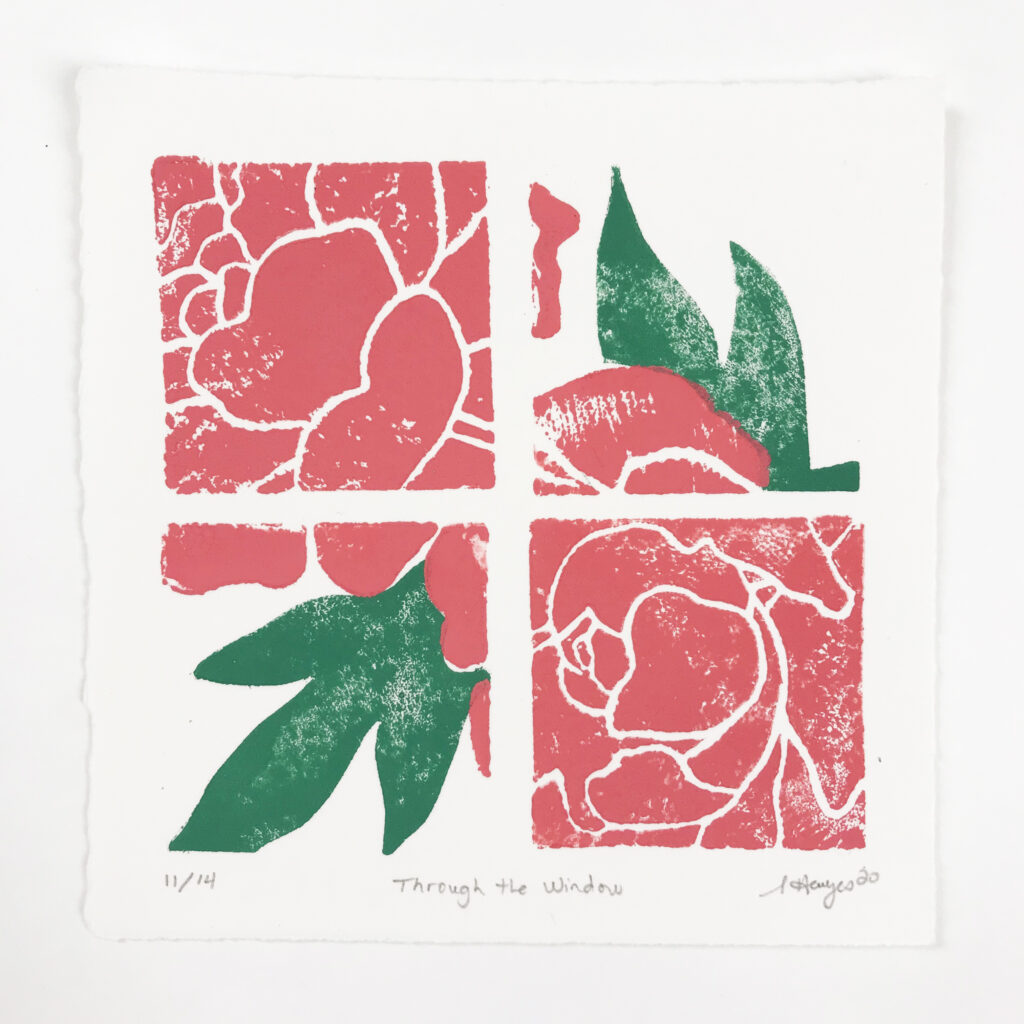 Stephanie Hayes – 'Through the Window'
This quarantine experience has really made me realize how nature continues to bloom even in the most dire situations. All we have to do it step out for a walk, or look through the window to see all the beauty it has to offer. This linoblock print is of peonies from my garden in Hamilton, June of 2020. Instagram: @sunshine.steph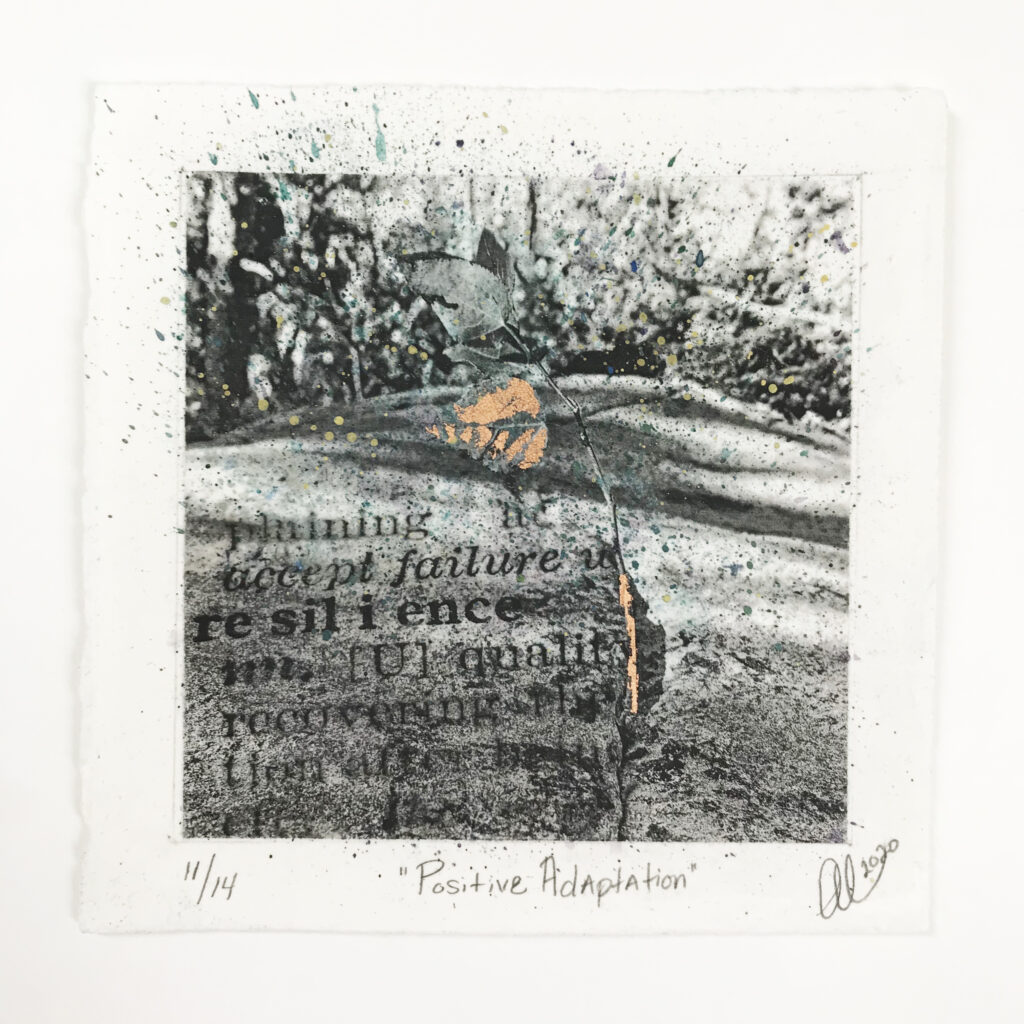 Amélie LeBlanc – 'Positive Adaptation'
The theme I used for this project is 'resilience'; inspired by a picture I took last fall, this tiny tree standing tall despite a chaotic environment, shows us that with a 'positive adaptation' we can adjust successfully to any challenges.   Instagram: @amelieleblanc27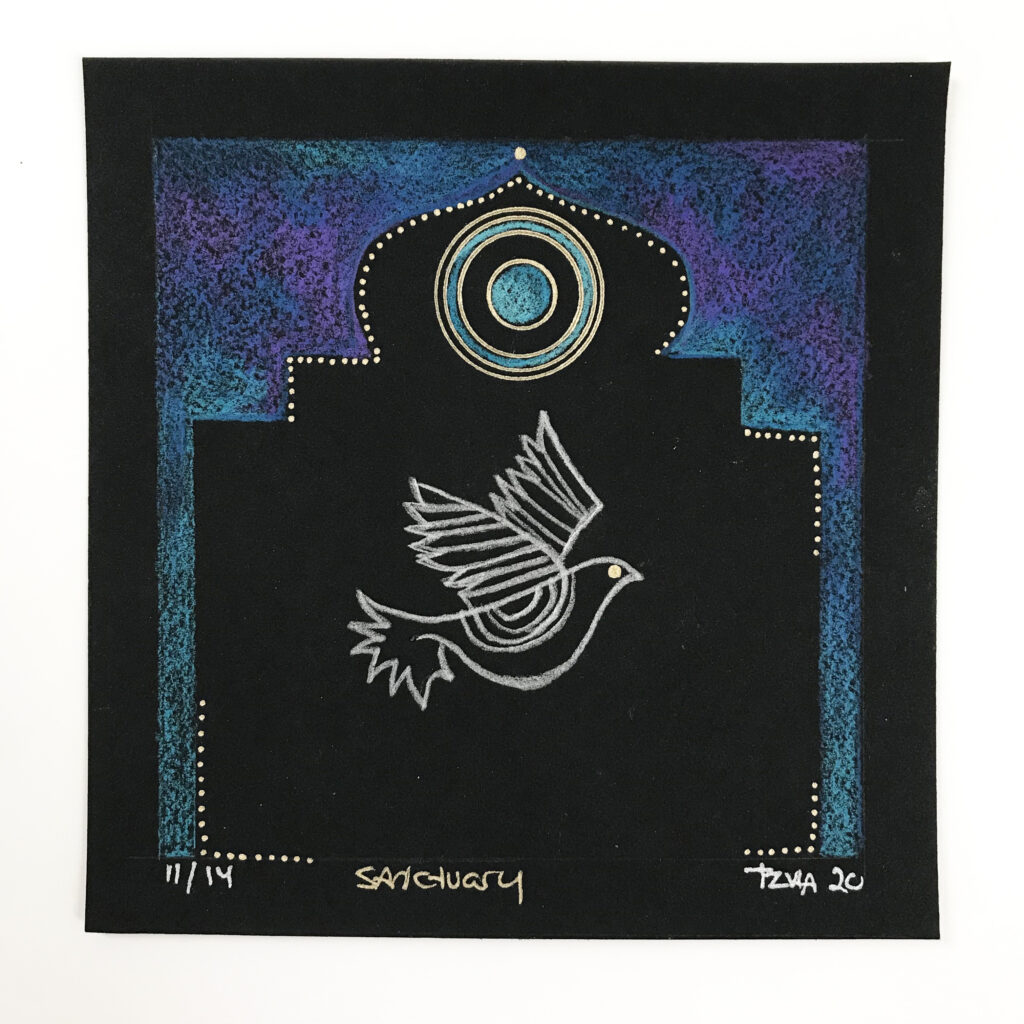 Tzvia Devor – 'Sanctuary'
A truly safe home must include a door. Here is my door, Moroccan inspired, a nod to my roots. Inside the door are concentric circles with turquoise centers. The circles and the colour turquoise are ancient Mediterranean symbols to bring luck, to protect against the evil eye. The dove is a universal of peace. During this time of global physical isolation, I am especially aware of my good fortune. I am grateful to have at long last, a place where I feel safe. I am finally home. This is my sanctuary. The skies framing my door are inspired by the vast universe. Nebula photograph by the Hubble telescope.  Mixed media.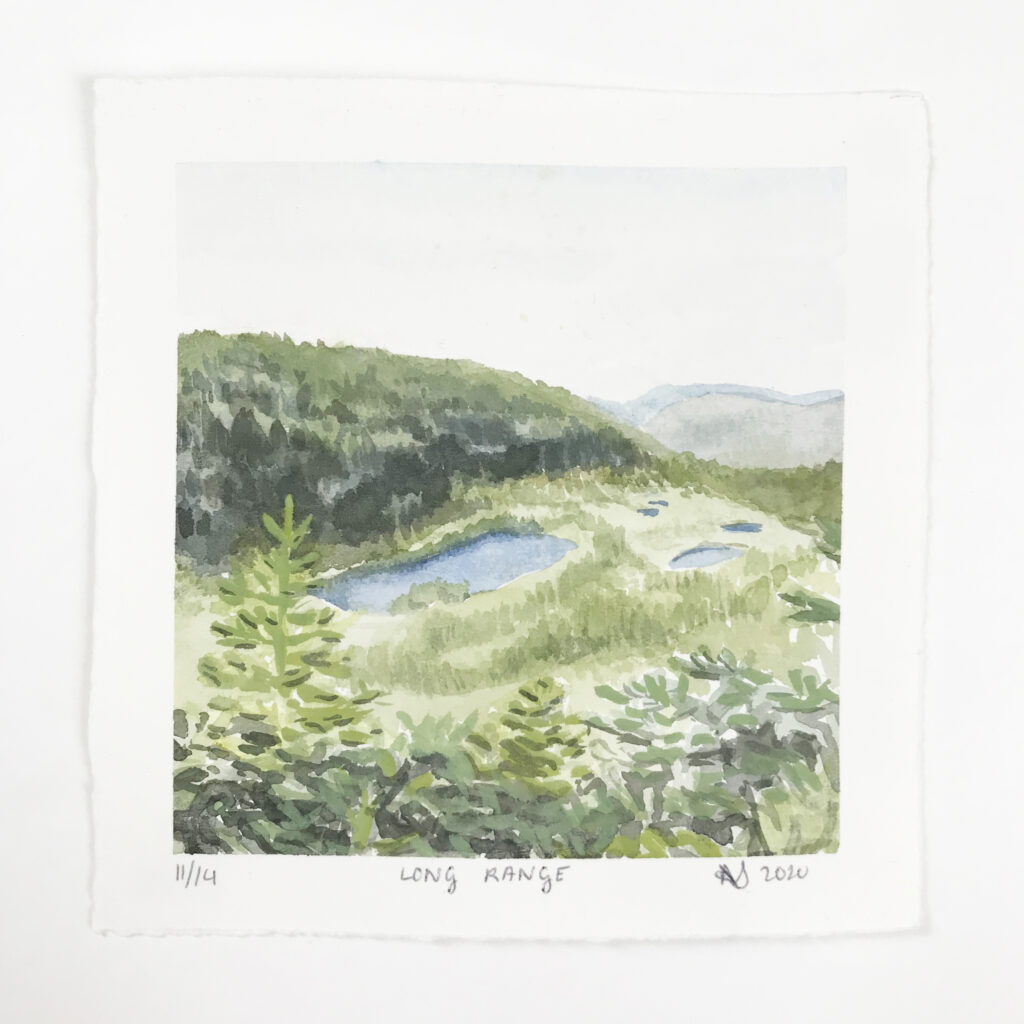 Anastasiya Slyepchenko – 'The Days That Were; The Days We Dreamed Of'
My partner and I had planned a trip to the East Coast this spring, to celebrate some education millstones. Of course, as the pandemic, and associated circumstances unfolded, we were unable to continue with our travel plans. This series of work focused on everyday images from the first few months of the pandemic, and images reminiscent of Newfoundland. I chose to focus on the flora and landscapes of Hamilton and Newfoundland, in order to explore the passage of time, and change of seasons from spring to summer as reflected by nature, and the magnificent beauty of Newfoundland and everyday life. The pandemic has warped one's sense of time, with every day feeling the same as the previous say, and it's sometimes hard to believe that 2, 3, 4 months have passed, as we continue to live the day time and time again.
Instagram: @anastasiyapaints                        https://anastasiyapaints.wixsite.com/portfolio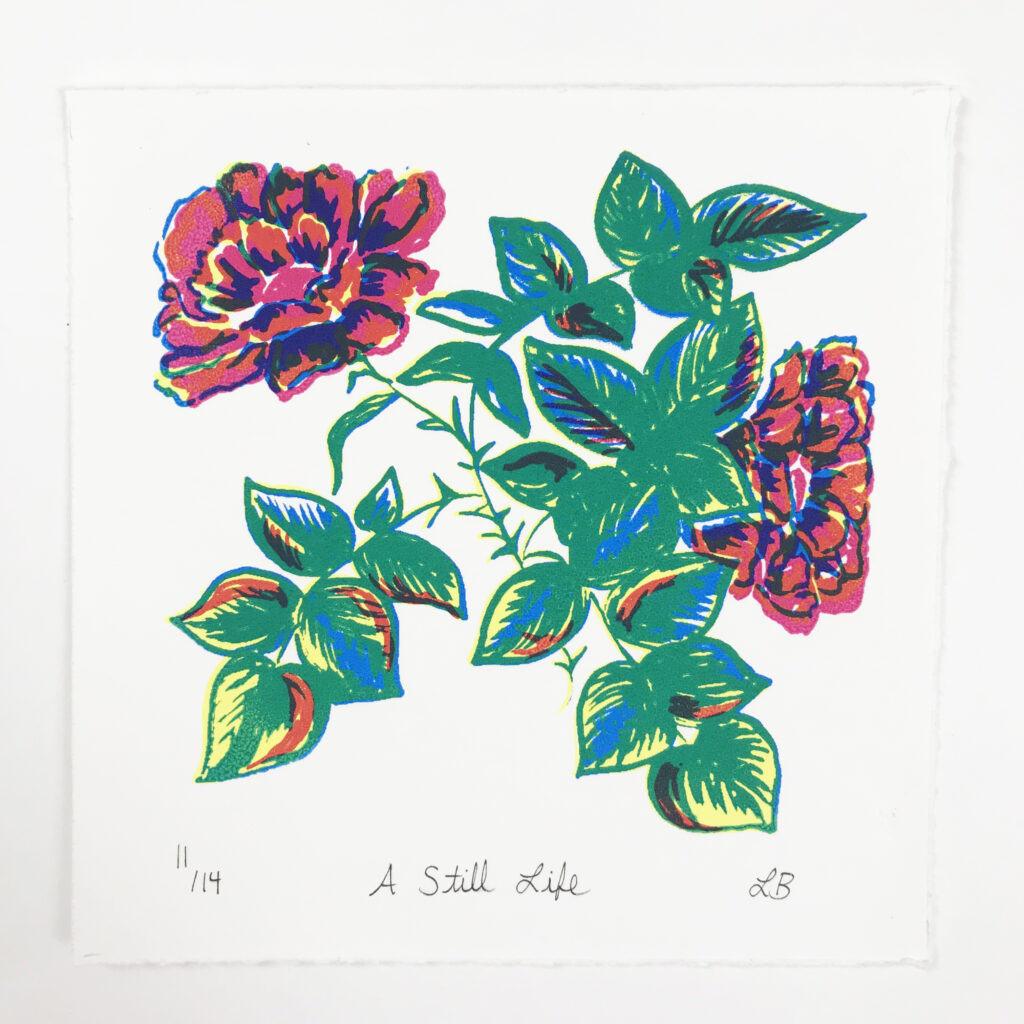 Laura Bromwich – 'A Still Life'
Since the beginning of March I've experienced a shift. One day I woke up and many of the responsibilities, activities and community programs I was use to participating in came to a stop. All of a sudden my life became more still. I've used this time to focus inward, allowing the life I have from day to day to ebb and flow with moments of quiet, thought and ease. My silkscreen print utilizes the simple yet thoughtful process of CMYK printing, with four basic colours overlapping to create additional hues. The content, flora imagery I now see more often as I sit still on my porch and watch the world pass by.           www.laurabromwich.com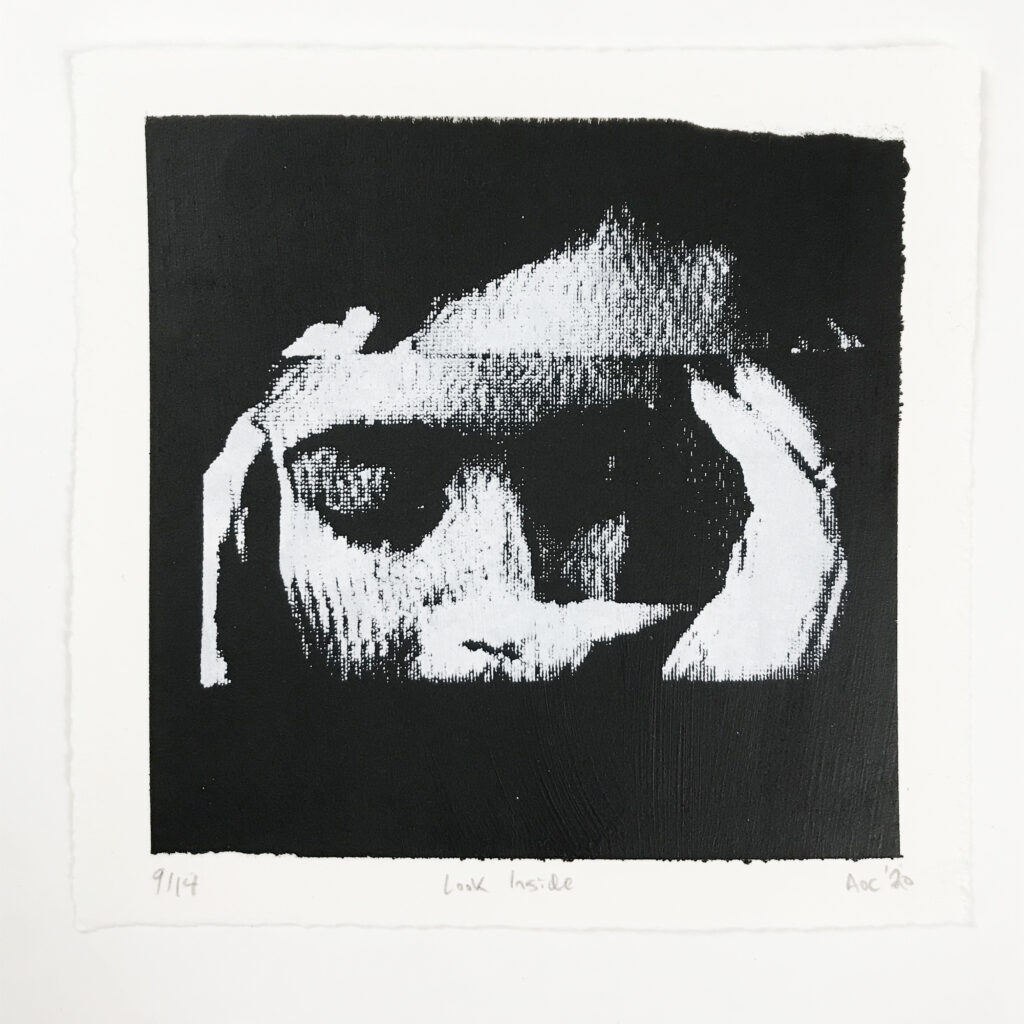 Andrew O'Connor – 'Look Inside'
They settled in,
They observed,
They rested,
Some paused and looked inside,
Some found their shadow,
And others started to see differently.
The world was healing,
And when all was well and people unearthed themselves,
They made new choices,
Imagined new perspectives,
And embarked new ways of being.
Instagram: @aaapoc       ap-oc.com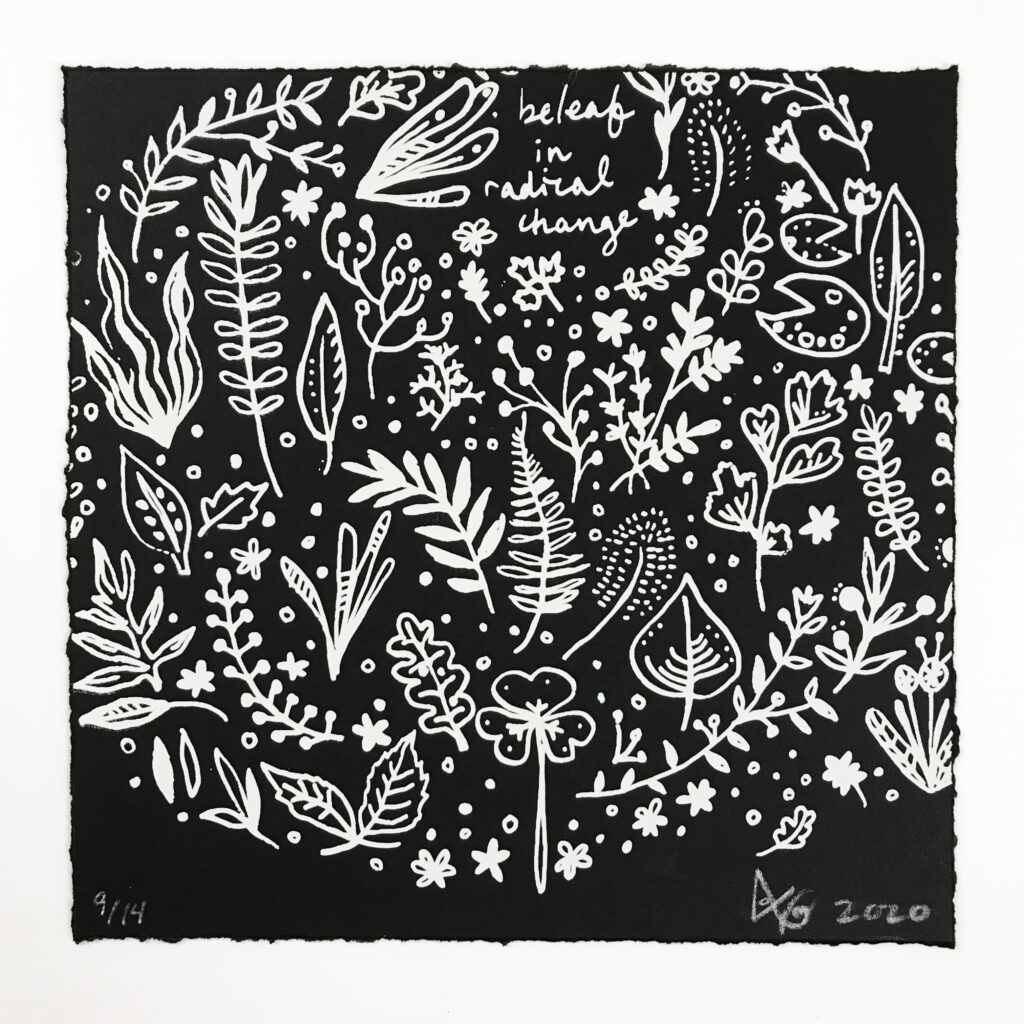 Jojo Chooi-Harley – 'Beleaf in Radical Change'
I returned to re-printing this during quarantine as I reflected on the importance of solidarity during these unprecedented times and how radical reformation and change is required to move from adversity and oppression, to equity, justice, and liberation. It is my hope, that the quarantine has brought more folks to light that capitalism cannot be reformed and the earth cannot be replaced. Oppression must be dismantled, land rights need to be honoured, black lives must be protected, and state violence must be dismantled. Collectively, we just build a world without oppression, where health care is not a commodity and is a human right, black lives matter, and all we have is radical kindness and respect for one another and the earth.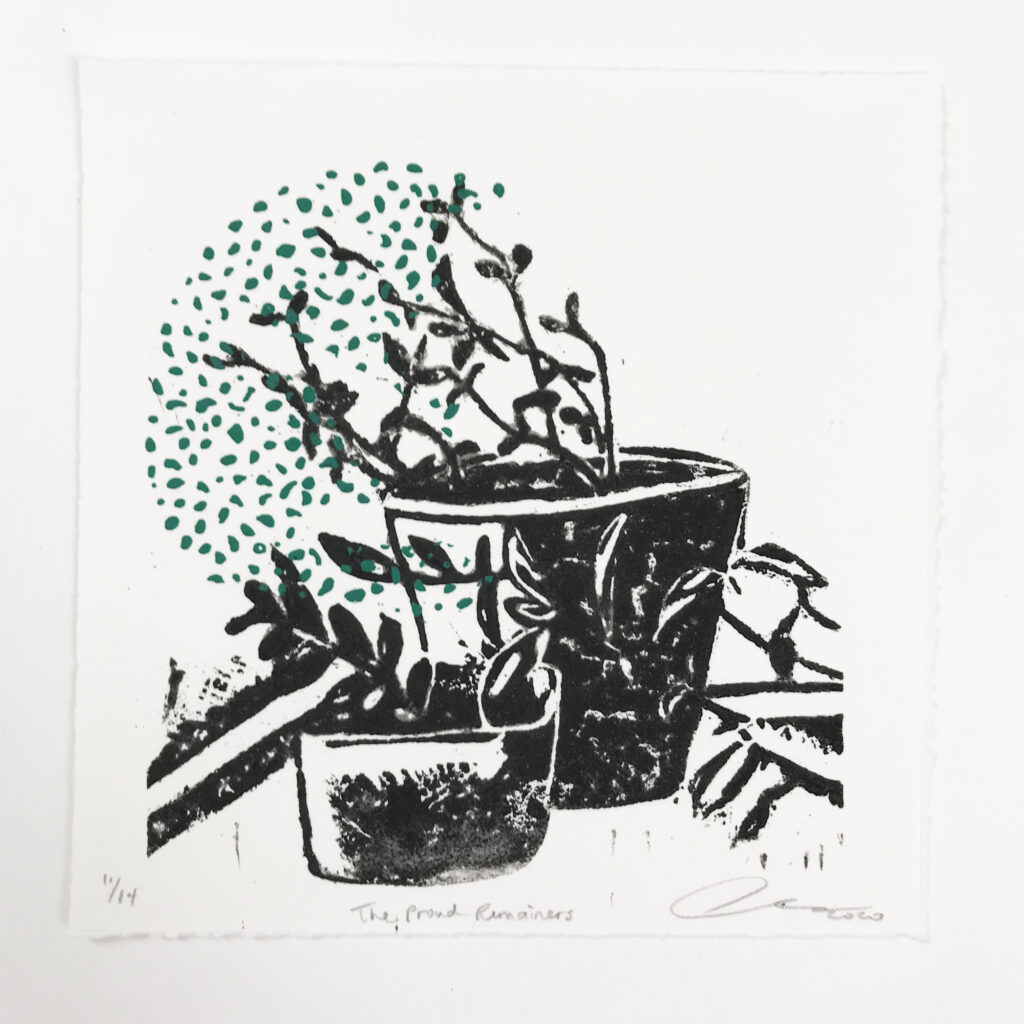 Annie Fraser Smith – 'The Proud Remainers'
The inspiration behind this print came from the natural phenomenon known as phototropism. It is a survival tactic of plants to grow toward a light source. Although they are trapped indoors, they adapt, stretch and bend to reach out for their source of life. I thought this fit into the Everyday In Isolation theme as a metaphor for people isolated at home and the hope for a future beyond the pandemic. Even when the outside world might seem dangerous or harmful to us during this time of uncertainty, nature endures and continues to grow. They title 'The Proud Remainers' is taken from a lyric of the song Doom Days by Bastille from their album of the same title, which punctuated this period of time for me. Block print and screenprint
Instagram: @anniesewinglife
Years past the Pop Up Print Collective  has presented and sold their prints at local events including The Dundas Cactus Festival and The Harvest Greenbelt Picnic Festival and the Artisan Market in Dundas, ON.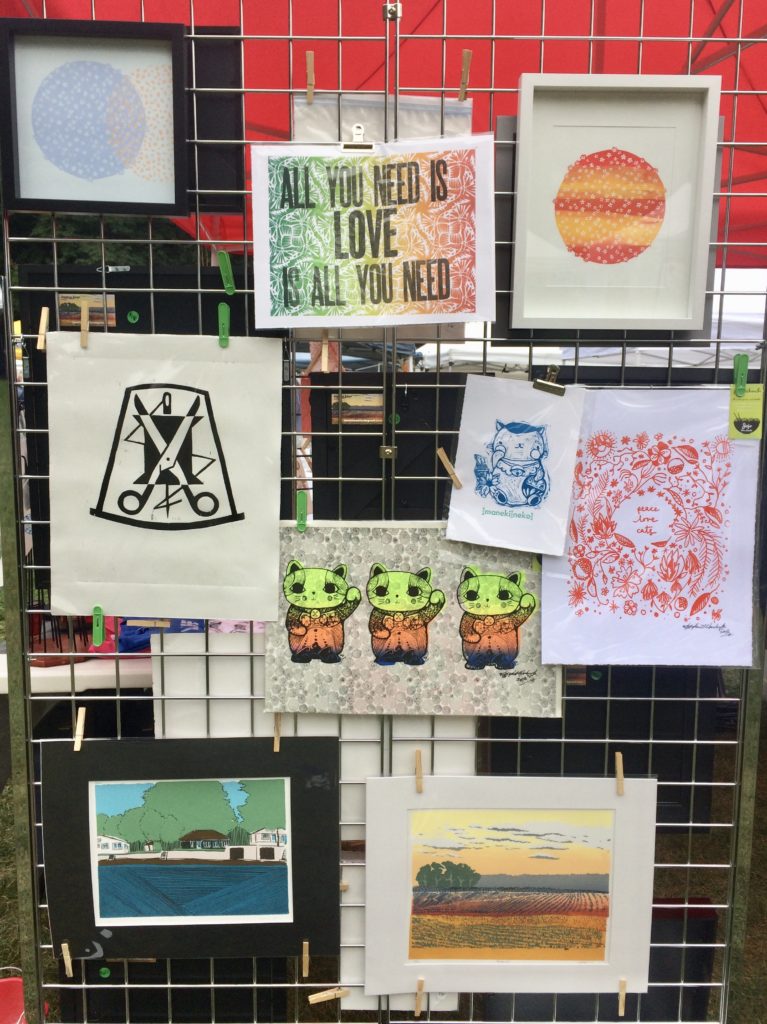 Pop Up Print Collective Members
2016- Claire Burpee ,Isabel Bedard, Jojo Harley, Julie Turner, Martha Merrall, Stephanie Hayes, Laura Bromwich
2017- Stephanie Hayes, Lindsay Corrigan, Julie Turner, Isabel Bedard, Sarah McIntosh, Martha Merrall,
Jojo Harley, Laura Bromwich
2018-Annie Fraser Smith, JoJo Harley, Sarah McIntosh, Jessica Saari, Marsha Paley, Laura Bromwich
2019-Marsha Paley, Julie Turner, Jessica Saari, Maya Chakravarti, Sharon Trent, Lisa Anderson, JoJo Harley, Laura Bromwich
2020- Cathy Yantis, Maya Chakravarti, Amy McIntosh, Jessica Saari, Marsha Paley, Stephanie Hayes, Amélie LeBlanc, Tzvia Devor, Anastasiya Slyepchenko, Laura Bromwich, Andrew O'Connor, Jojo Chooi-Harley, Annie Fraser Smith